Where would we be without our bead shops and traders?
Twenty years ago we all struggled to purchase the variety and quality of beads that can be bought today, so we believe it is very important to support our bead businesses around the world to ensure that we continue to be able to buy the best products for our craft.
If you own a bead business please help us, to help you, by supporting International Beading Week and provide your customers with a wonderful experience during our event.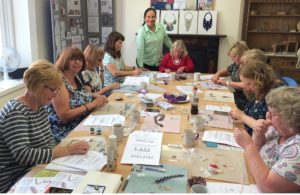 How to get involved?
Click on Events ideas below to find out how can can get your customers involved in IBW
Click on Patterns below where you will find lots of free designs to share with your customers
Click on Publicity info below where you will find logos and posters to use in your publicity
Click on Social media guide below to find out how to link in with our online advertising
Click on Social media pack below to find out how to advertise IBW online
How about some free advertising during IBW?
Simple!  Just click on the IBW Contact form below and provide full information including: company logo, images and website links and we will advertise your IBW events or special offers on our Events & special offers page.