All beadworkers and bead artists, regardless of experience or location, are welcome to join our community. The benefits of being a member of The Beadworkers Guild include:
Members' Events
Free:
entry to The Beadworkers Guild annual Bead Bazaar
access to the Members' only area - this includes free patterns, member only information and forms
e-newsletter - eight issues per year to keep you up-to-date between Journals, including a free pattern with each mailing
selection of patterns donated by members for you to download and enjoy
Distance Learning for Members - stitch workbooks to expand your skill set, with the opportunity for professional assessment at your request
Online Events - Open To All
Drop-in free monthly beading sessions to get to know your fellow beaders from all over the world.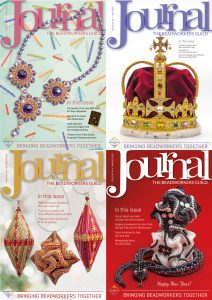 Journal
Our exclusive quarterly Journal in full colour, is available in both paper and digital format to members only. Each issue contains:
An average of eight detailed & illustrated patterns
Book & product reviews
Feature articles
Beading community news
Diary of shows & bead fairs
Gift giveaways
Members' Discount
Available on our Introduction to Beadwork books when purchased from the Guild.
Opportunities
for members to:
Purchase Journal back issues - unavailable to the public.
Exhibit their beadwork on the Guild's stand at shows around the UK.
Contribute to exhibitions that we, the Guild, organise.
Participate in our members only, annual Challenge competition.
Participate in our members only, communal beading project.
Demonstrate on the Guild stand at shows.
… all this and you make friends too!
Our membership year runs from 1st April until 31st March, but you may join at any time and you will receive all relevant back issues of the Journal.
If you would like to join The Beadworkers Guild, please click here.
A directory of other members in your area, is available to participating members upon request.
Opportunities
for beading groups run by a BWG member to:
Gain public liability insurance cover via the Guild policy.
Participate in our members only, annual Challenge competition.
Demonstrate on the Guild stand at shows.