Welcome to the diary page where you can find up-to-date information on bead shows and online events.
All bead shows marked with the Guild logo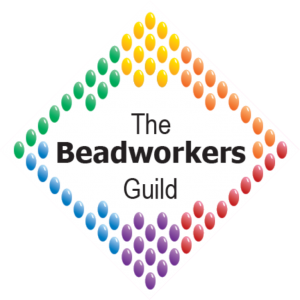 indicate that the Guild will be in attendance, so please come along and say hello.
If you are organising a show or know of one that isn't listed below, please contact events@beadworkersguild.com

Saturday 18th March - Rapanui Mirror online workshop with Mairi Carlton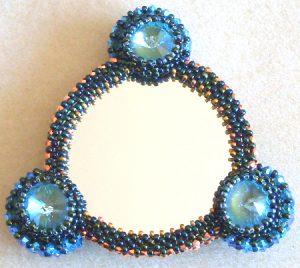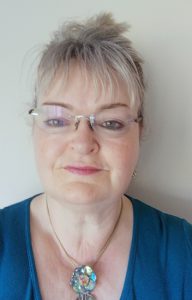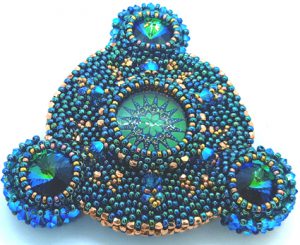 Time:  2.00 - 8.00pm UK time - for other times zones please click here     
Skill level:  Intermediate - knowledge of Right Angle Weave (RAW) is required and Peyote would be an advantage
Cost:  £45.00
Join Mairi Carlton to discover her beautiful mirror, inspired by an overseas vacation.
The three sets of sparkling Swarovski Rivolis represent Easter Island's volcanos with the compass stone secured in the middle to show the way. All the stones are captured using Right Angle Weave (RAW) and Modified Right Angle Weave (MRAW) with Swarovski and Firepolished crystals crowding around the edge of the mirror and Peyote stitch completing the landscape.
You will receive a list of requirements ahead of the event via email outlining the type of beads you will need for the day and your pattern and Zoom link will be emailed the evening prior to the event. Bookings close Monday 13th March.
To make your booking please visit:  https://members.beadworkersguild.com/shop/events/index/4
For further enquiries, please email Mairi Carlton at: mairicarlton@beadworkersguild.com or call +44 7946 462 720.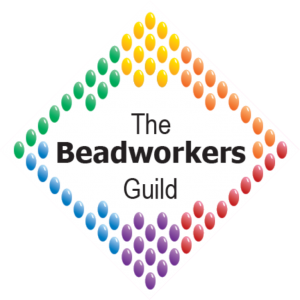 Saturday 25th March   BWG Online Monthly Drop-in - a focus on Netting
10.00am- 12.00noon UK time
5.00pm - 7.00pm UK time
For other times zones please click here       
Our free to attend monthly Drop-in offers all beaders from around the globe, the opportunity to bead, chat, and share their beading knowledge in good company.
The first half-hour of this session will focus on Netted ropes.
Bookings need to be made by the Thursday before the event and you don't need to be a member of the Guild to attend, so why not invite a friend to join you?  To make your booking please visit the Guild shop:
https://members.beadworkersguild.com/shop/events/index/3