Hello and welcome to The Beadworkers Guild
We are a vibrant community of people from all over the world, brought together by our shared passion for beading.
A registered charity, we operate with a small board of trustees, all of whom are volunteers. Our membership includes many highly skilled and talented designers from all over the world, but we all love a beginner to share our knowledge with. We welcome everyone interested in beading.
The process of beading has a rhythm to it which is calming, therapeutic and creative – the perfect recipe for your wellbeing!
Please view our video What we do to see some of the beautiful work our members produce and the variety of activities and opportunities that The Beadworkers Guild have to offer.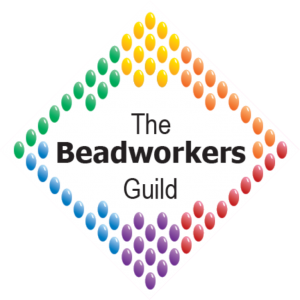 History/timeline
The inaugural meeting of The Beadworkers Guild was held on Saturday 8th May 1999 at The Great British Bead Show in Coventry and since then there have been many landmark moments in the Guild's history.
Our History

Bead Festivals
2020 - Online via Zoom - Egypt
2018 - Daventry - Art Deco
2016 - Daventry - The 60's
2014 - Daventry - Africa
2012 - Daventry - Charles Rennie Macintosh & Margaret MacDonald
2010 - Cumbernauld - Tassels & Trims
2008 - Surrey - Victorian & Edwardian Era
2002 - Bramhall - Cheshire - Spirals
2006 - Durham - Inspiration from India
2004 - Bristol - Frills, Flounces & Fringes
Cascade Days
(These events are replica Bead Festivals, which we took to bead groups and now known as Bead-ins)
2007 Southampton, Hampshire
Knebworth, Hertfordshire
Ashford, Kent
Weymouth, Dorset
Barton Under Needwood, Staffordshire
2006 Mawdesley, Lancashire
Long Melford, Suffolk
Glasgow, Scotland
Milton Keynes, Buckinghamshire
Members/Community Projects
2019/20   Flowers
2016/17   Summer & Winter
2013/14   Bugs & Butterflies
2012/13   Postcards Sea & Sand
2011 /12  Spring & Autumn quilts