Our invited ambassadors for IBW 2023 are incredibly excited to be involved with the global beading community.  Get to know a little about them as you read how they feel about beading.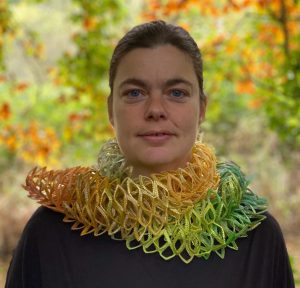 Floor Kaspers - Netherlands
As both a bead artist and a bead researcher, I have been very fortunately to travel around the world to see beads being made and used. I strongly believe in the connection that beads can bring within communities, but it can also translate much further. We may not share the same language, but when we put the beads in our hand, we understand each other.
This is also why I think it is wonderful that the International Beading Week is organized yet again, and I am honored to be one of the ambassadors. I live in The Hague, in the Netherlands, but I will bead anywhere. I even stitched beads together while visiting the Borobudur temple in Java, Indonesia.
Beading for me is a soothing activity, and especially the repetition of either Netting or Peyote stitch calms my very busy mind after a full day of work. I often make many smaller components and use those to create larger objects. One of my specialties is making smooth color transitions, generally based on colors that exist in nature.
You can find me on Facebook and Instagram under my name, Floor Kaspers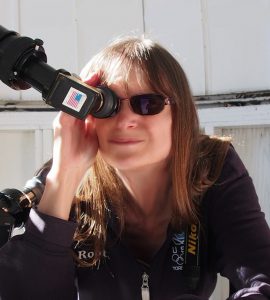 Sheila Root - North Caroline, USA
Sheila Root - North Carolina, USA
What a great idea the Beadworkers Guild had to start an International Beading Week to bring together people from all over the world, to inspire each other, to share, and to learn. Beading is such wonderful therapy for so many, and with today's global access we are all connected. It is an honor to be a guest ambassador for 2023!
I have been beading for 30+ years but have dedicated the last decade or so to three-dimensional non-jewelry work with round seed beads. They flow so much better on rounded shapes, and there is so much inspiration in nature. The main challenge in my work is not in the beadwork itself, but in translating it into a format that can be shared. It is so exciting to see my birds, flowers, butterflies, animals, and little people coming to life in the hands of beaders all around the world.
Whether you are a beginner or more advanced, everyone has something to share and something to learn. IBW is a great place to share and learn, to connect with other beaders, and to inspire others to learn this wonderful art form.
Website: PDF Patterns - www.sheilaroot.com
Contact: info@sheilaroot.com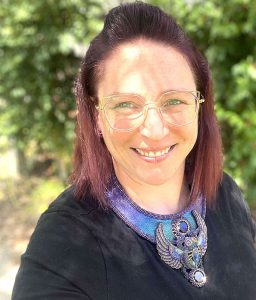 Catriona Starpins - Melbourne, Victoria - Australia
I am honoured and very excited to be invited as guest ambassador for International Beading Week this year.
As a young girl I was always attracted to anything that sparkled especially under lights. Today nothing has changed, I collect anything that shines and shimmers, especially beads and love to create with them. My background as a costumier and milliner has allowed me to showcase these individual skills bringing joy to others through my beadwork.
I am very passionate about all beading especially bead embroidery and bead weaving. My eye for detail and buzzing mind of creative ideas keeps me striving to always come up with something new. I love learning new beading techniques and challenging myself to try new things. This experience allows me to share my beading knowledge with others and teaching brings me great joy. I love to see students wearing their finished designs proudly.
You can get in touch with me here:
Email: catrionastarpins@gmail.com
https://www.facebook.com/CatrionaStarpinsStudio
https://www.instagram.com/catrionastarpins/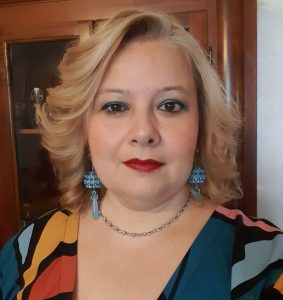 Lia Dipaola - Italy
I'm honoured to be asked to get involved in International Beading Week (IBW).
I live in Rome, and I'm a full-time mom. Besides cooking, books and travelling, I love all things creative.  I started with bead embroidery on fabric and cross stitch, then I tried decoupage, modelling clay, scrapbooking up to bead weaving.
For 16 years, self-taught, I have been following video tutorials on YouTube and workshops during creative fairs.  I like to mix the various weaving techniques and also work with Shibori silk and Soutache. Crystals must never be missing in my creations; they make them brighter and more precious.
I participated in international fairs and competitions that gave me some visibility, then I started making my own patterns and teaching the various bead weaving techniques. I'm studying haute couture embroidery with the Luneville technique and goldwork, and I'd like one day to be able to make a jewel with these techniques too. I am happy to donate my tutorial and to be part of this community.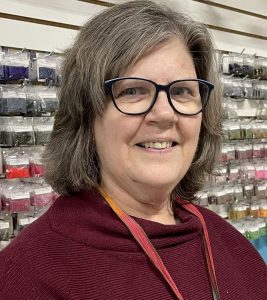 Kathy Fritz & Jo Ray of Bead Soup - Maryland, USA
Bead Soup is honoured to be invited to participate in International Beading Week. For years I have watched all the amazing bead designs being created by beaders all over the world and to think this year our designs will have that opportunity.  It will be exciting to see how far around the world our designs can go. We hope that beaders of the world will dream up new color choices for us because we often move at such a frantic pace developing new designs for the bead store that we don't take the time to enjoy the world of color and what it can do to a design.
Kathy Fritz (left) has been the owner of Bead Soup since 2008. I studied Fine Arts in college and worked for over 20 years as a Civil Engineer draftsman until I opened a tiny little bead store which grew to allow national and international bead artists to travel to teach. We specialize in seed beads and Delicas.  The pandemic changed our structure to Zoom classes and shipping kits all over the world, so we now reach far more beaders than we ever did before
Jo Ray (right) studied Electrical Engineering in college and worked at NASA and dabbled as a graphic designer before she wandered into Bead Soup only knowing how to bead crochet around 2010 and never left. She basically taught herself everything she knows with the exceptions of listening in and learning from traveling designers.  Her love is bead embroidery but she will try any bead weaving stitch and has created hundreds of designs for Bead Soup.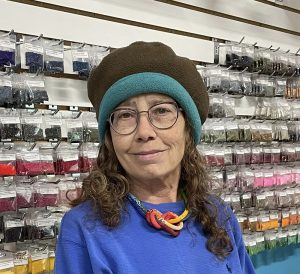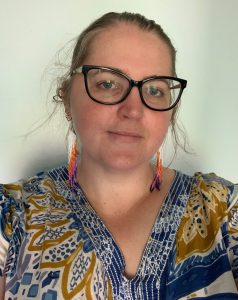 Louise Carter - Queensland, Australia
I am excited to be an ambassador for International Beading Week, hosted by the Beadworkers Guild, it is an honour that I hope to do justice to.
The international beading projects are a fantastic way to come together even though we are spread out over the globe and it is amazing to be part of the community projects and see them come together. Beading has become my life passion, it brings me joy and satisfaction when I create and experiment with my beads.
I hope to share a little bit of that joy and hopefully help members of our beading community to gain some confidence to try something new.
FB & IG: @delicatebylou
Twitter: @delicate_by
Website: www.delicatebylou.com
Contact : delicatebylou@gmail.com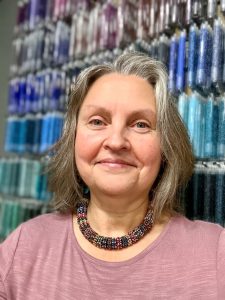 Gail de Luca - Tennessee USA
It is a huge honor for me to be invited to be a 2023 guest ambassador for International Bead Week. I love the goal of this organization to connect beadworkers all over the world so that more of us can discover the joys that beading can contribute to our lives.
I started my beadwork journey over 20 years ago, teaching myself peyote stitch out of the back of a bead magazine.  Before long, I was waking up at night coming up with my own project ideas.  What started as a form of relaxation quickly became a creative outlet.  In just a few years I had completely changed careers and opened my bead shop in Tennessee, USA in 2006.
Since then I have been fortunate to have shared my love of beadwork with thousands of customers and students, learning and teaching basic techniques as well as designing.  I teach classes at my shop weekly, and really enjoy seeing both new and experienced beadworkers have their aha moment of understanding a new stitch or clever tip.  And a real bonus has been the friends I have made along the way.
What a great joy it will be to take these moments from the classroom in my little shop to folks around the world!
Places to find me:
https://www.whitefoxbeads.com/
https://www.instagram.com/whitefoxbeads/

Anita Adamson - Indiana, USA
I feel so honoured and overwhelmed that the Beadworkers Guild has decided I deserve the title of being an IBW Ambassador for my work with Seed Beads & More.
Ten years ago, the vast majority of you had never heard of me. Then, in 2013, I conceived the idea of Seed Beads and More. I envisioned an online community of beaders who would become friends, as well as a place free of ads. It would be a 'safe place', a haven, if you will, for beaders of all skill levels to show their work without fear of harsh comments; a place where beginners could ask questions, and not be ridiculed for a question being too simplistic.
Thanks to our fantastic members, the group has become all that and more. Many of us feel almost as if it is our extended family now. Starting with 12 members, I could never have dreamed it would grow to near 20,000 worldwide members by now (and still growing steadily), yet continue to maintain that small group atmosphere.
Why not come join us?
https://www.facebook.com/groups/465805706810440/