Our invited ambassadors for IBW 2021 are from around the globe and all are excited about being involved with the beading community to share their passion and offer some of their designs for all to share.
Cliff Swain-Salomon – California, USA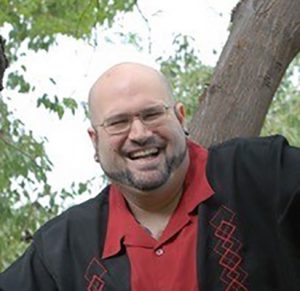 "I am honoured to be chosen as one of this year's ambassadors for International Bead Week.  After injuring and losing use of both of my hands for over three years, I began beading when a friend recommended I try it as part of my hand rehabilitation therapy.  Once started I was hooked.  Being an ambassador is a wonderful way for me to not only support the beading community, but also introduce people who have never beaded before to a world I am so passionate about".
Cliff is an off-the-loom seed bead weaver known for creating non-traditional jewellery shapes and pushing the boundaries of colour exploration.  In all of his pieces, Cliff integrates over 30 years of study in multiple fields, including graphic design, painting, as well as apprenticeships with several medicine men and women, exploring sacred geometry and chromotherapy. For further information about Cliff and his work please visit his website.
Website: http://www.cssfineart.com
Webstore: https://shop.cssfineart.com

Lynsey James – UK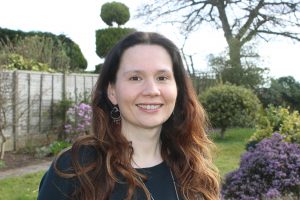 I felt very honoured this year to be chosen as an ambassador for The Beadworkers Guild. I am the designer and co-owner of ThreadABead.com.  For the last 14 years I have been busy designing and beading whatever weird and wonderful ideas my imagination can think of and sharing them with the beading community.  It has taken me on an unexpected journey into professional beading, and I have met some wonderful people along the way.  ThreadABead is the culmination of my admiration for the versatility of the Delica bead, using simple basic stitches such as Peyote and Brick.
I passionately believe beading should be fun, and that reflects in my work which tends to be non-jewellery items such as ornaments, boxes, even houses, fairgrounds and trains.  I like to bead a wide variety of designs and I always encourage anyone no matter their ability, to bead what they love rather what they think they can do and be surprised by what you can achieve.
Whether you are a beader who loves to get out and about beading with others or like me, by yourself in front of the TV, the Guild provides all the information and inspiration a beader needs for delving into this wonderful world.  International beading week grows year on year and it has become a special time for all beaders to get together and share in the joy of beading.  Of course, after this past year of challenges where beading has become such an important lifeline for so many, now more than ever, we should embrace our wonderful craft and ensure that others can also share in our adventure.  I am so delighted that I can be a part of that for The Beadworkers Guild this year.

Anita Adamson – Indiana, USA
I feel so honoured and overwhelmed that the Beadworkers Guild has decided I deserve the title of being an IBW Ambassador for my work with Seed Beads & More.
Ten years ago, the vast majority of you had never heard of me. Then, in 2013, I conceived the idea of Seed Beads and More. I envisioned an online community of beaders who would become friends, as well as a place free of ads. It would be a 'safe place', a haven, if you will, for beaders of all skill levels to show their work without fear of harsh comments; a place where beginners could ask questions, and not be ridiculed for a question being too simplistic.
Thanks to our fantastic members, the group has become all that and more. Many of us feel almost as if it is our extended family now. Starting with 12 members, I could never have dreamed it would grow to near 20,000 worldwide members by now (and still growing steadily), yet continue to maintain that small group atmosphere.
Why not come join us?
https://www.facebook.com/groups/465805706810440/

Sarah Cryer - UK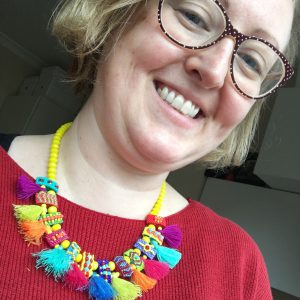 As part of the IBW social media team  for several years it's lovely to be able to show my support as a designer as well by becoming an Ambassador.  Beading along with others is such a pleasure, whether it's done in person or remotely, and I'm looking forward to seeing the results all of the events and activities the IBW team work so hard behind the scenes to prepare for you every year.
I've been beading for over 10 years now, primarily in beadweaving but more and more in bead embroidery, and I'm known for my bead encrusted mixed media works.  Bead embroidery will be my focus as an ambassador as it's a great access point for existing stitchers to slip sideways into beads, and I'm looking forward to sharing my love of it with you all as well as beading my way through as many activities as I can!
Website:  www.theindecisivebeader.com

Leslie Pope - USA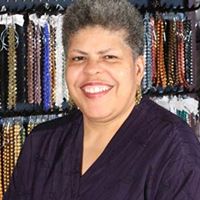 Leslie, well known in the beading world as Twisted Sistah Beads, started her love of beadweaving in 2001.
Since Leslie began her journey, she has been selling and teaching in the United States and continues to have her creations featured in magazines and books. Currently she is the Senior Designer at The Beadsmith … a position that she calls her dream job.
"I'm so thrilled to be able to spread my love of beadweaving to an international audience. I am humbled to be asked to be a 2021 guest IBW ambassador."
You can follow Leslie on Facebook and Instagram as TwistedSistahBeads and find her kits and tutorials on her website: twistedsistahbeads.com.

Chloe Menage – UK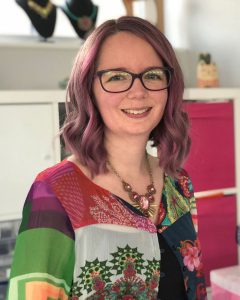 Chloe is a UK-based designer who creates vibrant and whimsical beadwoven designs in a riot of colours. As an experienced jewellery designer, Chloe is a Guest Designer on the JewelleryMaker shopping channel and was previously editor of popular publication Bead & Jewellery magazine. She has been teaching her colourful projects for more than 10 years and regularly teaches beading workshops at craft shops and arts venues around the UK and beyond - as well as virtually from her home studio. She sells her beadwork tutorials through her brand Pinkhot Jewellery.
For more beading patterns, kits and workshop dates visit www.pinkhot.co.uk
Facebook: www.facebook.com/pinkhotjewellery
Instagram: @pinkhot_uk
Twitter: Pinkhot_uk
YouTube: https://www.youtube.com/channel/UCnuLAwATZiPfJH1uFM2THIQ

Leslie Rogalski - USA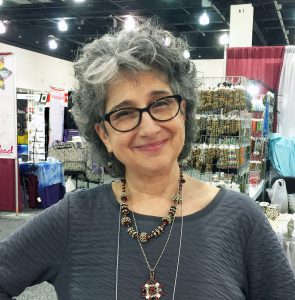 Leslie Rogalski has a BFA in illustration and design and was a freelance illustrator before beading swept her away in 2004. Also known as Sleepless Beader, Leslie has been an editor for leading bead magazines, has had work in books and magazines, and designed for bead companies in the US and Canada. Widely recognised for online videos, workshops, and TV appearances in the US and UK, Leslie is also a Master Artisan of her local chapter of the Pennsylvania Guild of Craftsmen. She has been the Creative Director for The Beadsmith since 2015.
When asked to be an IBW ambassador Leslie said: "Thank you for the opportunity to join your ranks of ambassadors, what an honour!  It gives me great pleasure to share my passion for beadwork, and this is another way to inspire creativity and to help people improve their craft and level of design".
To see more of Leslie's work and her tutorials visit her website leslierogalskibeadworks.com
Follow her as DOODLEBEADER on Instagram, and look for her craftsy.com classes on Essential Seed Bead Stitches.

Cate & Chris Venn - UK
I was truly humbled when we were asked to become Ambassadors for International Beading Week, it was just so unexpected!
I've been beading for more than 20 years and it was my mother, Mo Fisher that is to blame for me getting into beading when she showed me what she had made in a class and I asked her to teach me. We learned so many things together and I love that we still bead together every week for our Bead Club.
I'm probably most known for my neckerchiefs, geometric works and the Universal Nebula Dress Project (which was totally Chris' fault!), where beaders all over the world bezelled all sorts of cabochons that Mo, Chris and I put together and made them into a beautiful ballgown. We are in the process of finding the right venue for auction and then we will split the proceeds between two cancer charities, as I have beaten cancer but am terminal from a superbug I contracted during treatment. I want to help others as these charities helped me.
Throughout my surgeries and treatment I couldn't get the energy to bead and then I had a stroke and lost all feeling in the fingers of my right hand, so I had to learn how to bead again. Now I use beading as my therapy and I know many others out there do the same.
I love that The Beadworkers Guild encourage all beaders to learn and make new friendships, no matter what level they are. Since the advent of social media I have made so many beady friends and I truly appreciate and love many of them as family. Planet Bead is a beautiful place and I hope to share that beauty through my ambassadorship.
Being asked to be an ambassador is a huge and unexpected honour. I've only been beading two years! I began beading by mistake when my wife Cate said that "whilst a full size dress made of size 15° delicas in RAW would indeed look amazing I could get stuffed if I thought she would be the one doing it". Long story short I said "if you won't I will learn and do it myself!" Fast forward two years and I've made not only the dress, but made a lot of wonderful friends from all over the beading world and Cate and I have a shared passion to enjoy in our retirement.  Hopefully being so new to beading I can bring a new perspective and maybe inspire other new beaders to push their limits and not to lose hope when it seems like you'll never get the hang of it. Remember the difference between an expert and a novice is that an expert has already failed 10,000 times!

Apollinariya (Poli) Koprivnik - Slovenia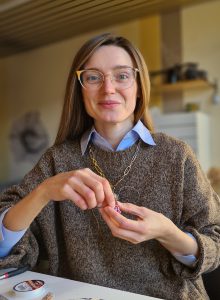 For me it was very exciting to get an invitation for such a unique event. I immediately started to explore this area deeper and getting more information about The Beadworkers guild and how to be useful. For me it is an honour to be part of this international event and to share my experience, inspiration and knowledge. Beads and crystals are a part of me, that is in a never ending cycle of learning new techniques and materials.
Poli is a self-taught beader, started in the year 2011. She graduated with master degree in architecture yet started her own path in the world of glass beads and crystals. From the beginning she was using only beads and embroidery technique, then she got inspired by Swarovski crystals and semiprecious stones. Since 2013, she is working in mixed techniques as embroidery and bead weaving combining all sorts of Swarovski elements and constantly searching for new unusual materials. In January 2014 she started to create her instructions and tutorials for her jewellery designs. She calls her art "Beaded Architecture" since designs have complex multilayered structure as some sort of engineering abstraction. She had several publications in international magazines (like Perlen Poesie, Germany, Make & Sell Jewellery, UK, Bead & Jewellery, UK and other). She is teaching workshop classes in Europe and USA and always is improving her technique by taking part in international beading competitions as a participant – organized by Swarovski Russia, Fire and Mountain gems, the Beadsmith and she is also an invited judge in international beading contests for official Swarovski retailer shop Greenbird.ru. Her goal is to make beaders happier and always give them some challenge with new patterns and classes.

Nichole Dochterman – California, USA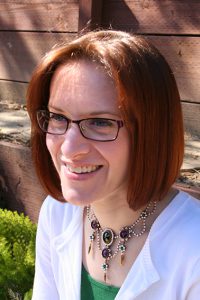 I am honored and humbled to be invited as a guest ambassador for International Beading Week.  My love affair with beading started back 1995 when I saw a class for a beaded amulet bag at my local bead store.  That first class started me on a 26 year beading adventure filled with amazing bead teachers, wonderful projects and lifelong friends.  I will never get tired of exploring the endless possibilities of beadwork and utilizing the tools learned in classes to engineer my own designs.
The beading community is such a diverse, creative, inspiring, and supportive group and I'm thrilled for the opportunity to join the International Beading Week ambassador team to help spread the excitement and joy of beading.
Email: nicfran13@gmail.com

Nancy Kooyers Jenner - Michigan, USA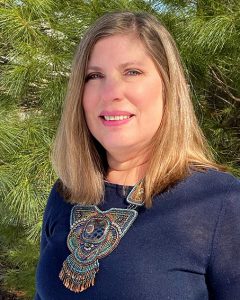 Nine years ago I discovered the thrill of weaving tiny beads together to make wonderful objects. I learned beading through books, the internet (for inspiration), and a wise beading mentor. When asked, I refer to beading as my hobby, but at heart consider it a form of art. I particularly like to design in the geometric beading style, using beads as building blocks to form structures.
I am honored to have been asked to be an IBW ambassador. There is great satisfaction in the process of creating jewelry or objects with beads, whether through the designs of others or your own. As an ambassador, my hope is to encourage and inspire others in their bead journeys. Please join me as we celebrate the art - and fun - of beading!
Email: nckjenner@gmail.com

Akke Jonkhof – Netherlands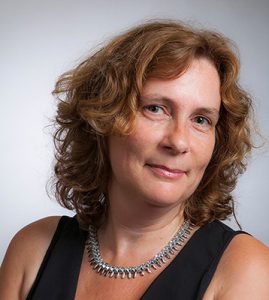 I am honored that I was asked to be a guest ambassador for the IBW this year. I am a self taught bead designer and started beading 12 years ago.
First with seed beads and when the Czech glass shaped beads came on the market I started using all the new shapes when they came available. Since a few years I rediscovered Delicas and the possibility to use them in non jewelry like purses and boxes.
Over the years beading brought me a lot, like friends from all over the world, something to be creative with and it helps me calm down when I have a lot at my mind. So I am very happy to be a guest ambasador and spreading the love of beads and beading in this way.
https://www.facebook.com/akke.jonkhof
https://www.facebook.com/Akkesieraden

Jill Wiseman - Arizona, Texas, USA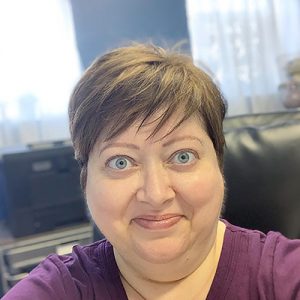 I'm so excited to be one of the International Beading Week Guest Ambassadors this year! Celebrating our love of beadwork and encouraging the spread of the craft is something I'm passionate about, and the folks who plan International Beading Week do a wonderful job at getting us to focus on that very thing.
Beading can be social, or it can be solitary - you can participate in IBW events either way! The internet has allowed us to gather together virtually from all across the globe to share our beady pursuits, and I'm grateful to help make that happen by being an IBW Guest Ambassador!