International Beading Week (IBW) 2022 - Flowers of the World may have come to an end, but there are still a few events that you can get involved in: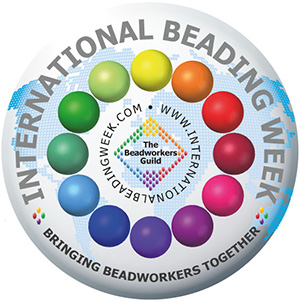 Starts midday, Tuesday 26th July
Bouguet Necklace Masterclass with
Julie Ashford of Spellbound
Worldwide event
Join Julie for a series of  FREE online videos where she will show you how to create the fabulous Bouquet Necklace, as featured in Spellbound Floral Beaded Jewellery.
Starts midday Tuesday 26th Julie - visit:  https://www.youtube.com/channel/UCTv30pLC6C2u5DXaoB2KFmQ/videos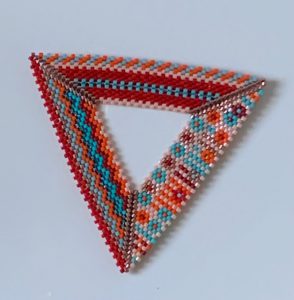 Triangle love with Norgard Designs
Start date TBC
FREE Worldwide online event
Norgard Designs is excited to join International Beading week for their third annual Global Project - Triangle Love, spearheaded by Professor Karen Sam Norgard (best known as Sam).  The Norgard design team includes: Carol Romano Geraghty - organiser extraordinaire, Dawn Peterson - designer/planner, Deb Mosch - colour consultant and Anvi Shah - overseer of lectures.
Sam came to understand that she had teaching to trade. Instead of asking for money for learning, she trades education for joining in the making of components for a large global work. Participants are asked to donate one or more forms, but if you are unable, you are still welcome to enjoy the lessons and lectures.
Following the same format as in 2020 with the Black & White Together Project and the 2021 All Colors Project, the design team will be posting a series of instructions and lectures for their 2022 project, Triangle Love. You will be taught through videos as we did last summer, which will be available on www.norgarddesigns.com under Free Lessons & Lectures.  This year you will learn how to make a linear space frame - specifically the frame of a triangle, plus you will learn about design and the exploration of colour and pattern.
For information on previous projects visit: https://beadworkersguild.com/international-projects/
Opening dates, plus links to lessons and lectures will be posted soon!


Friday 22nd to Sunday 31st July... and beyond
Sweet treats & savoury snacks online beading class
Cost:  $49.95 or £39.95 if enrolling before 22nd July
This online beading class will be celebrating the tenth anniversary of Sweet Treats book and Katie's tenth anniversary as a full-time beader.  Join in to create a feast of sweet and savoury beaded food. With three amazing brand new projects being taught during beading week. These are top secret, but will take the form of a needle case, a stand to keep your beading scissors safe, and a set of boxes to store beads and thread. The class takes place online, giving you PDF tutorials to download, plus videos demonstrating basic techniques. You can also get one-to-one help from Katie if you need it.
As this is an international event, you will have permanent access to the class, so you can bead at whatever time suits you. And you can continue to access all the PDFs and videos after beading week - for as long as you wish. So, there is no pressure to be anywhere or start or finish at any set time.
A few luck early enrollers will also receive a FREE copy of Katie's Sweet Treats book (shipped anywhere in the world). Click the link for full details:  https://my-world-of-beads.teachable.com/p/sweet-treats-and-savoury-snacks-online-beading-class
For further details contact Katie at:  beadflowers@btinternet.com