Masterclass - Theodora Necklace with Erika Sandor
Inspired by the shape of the Byzantine Cross, with just as many decorations as the mosaic tiled portrait of the empress created on the wall of the Basilica  in Ravenna.
You will start by bezelling pearls and cabochons, then switching to the best part where rhinestones and bugle beads transform the classic pendant into a contemporary jewel.
Skill level:  Experienced
Class code 04/01 - FULL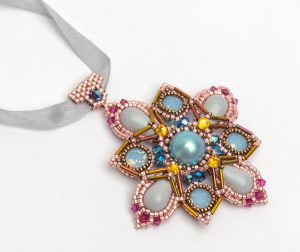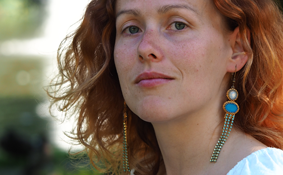 Esmarelda necklace with Sylvia Fairhurst
Colours of a peacock feather inspired this design. The elements of the of this necklace could be combined in a variety of ways. In this piece the lozenges are different sizes, but you could use a single one as a centre piece or add more and connect together for a full collar. The drapes include bicone crystals and montees, these too could become an elegant necklace without the bezelled lozenges. So you may learn to make each component and experiment or follow my lead and make your own Esmarelda necklace.
Skill level: Intermediate - knowledge of Right Angle Weave an advantage.
Class code 04/05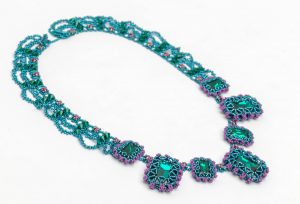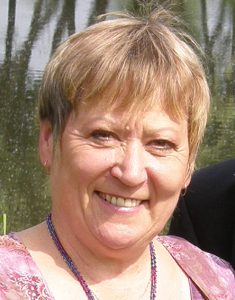 Trilliam Necklace with Fran Griffith
You may know of the shy, shade loving flowering plant, trillium. Well, nothing shy about this one in orange, pink and lime! (Of course there will be kits in quieter and classier colours.)
This piece involves Peyote stitch with increasing, tubular Peyote stitch with increasing and decreasing and something I've played with on the necklace chain. If you can do Peyote stitch and hold a bit of tension, I'm sure you can cope with it. I can help you! Come on, have a go!
Skill level:  Intermediate
Class code 04/07 - FULL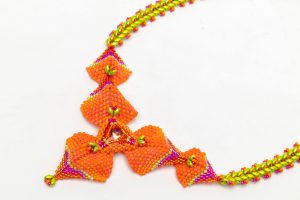 Bead Folding with Rowena Henderson
This class is a development of Rowena's Beaded Fortune Teller and teaches you her formula of two-drop Brick Stitch shapes combined with size 15 seed bead hinges to make an array of kinetic beadwork in almost any shape you desire – if you can fold it out of paper, then you can make it in beads with every single piece folds (or unfolds) into a perfectly flat sheet of beadwork.
Skill level: Intermediate, knowledge of Brick stitch is essential.
Class code 04/08 - FULL