Ingrid Bracelet with Erika Sandor
Sparkle, sparkle, sparkle - and a clever thread path that makes it possible to bead it in one go, instead of starting a new thread for every motif.
Note: I will also try to work out a thread path for the two-hole cabochons when the holes are running parallel, to show beaders how many possibilities there are.
Skill level: Beginners who have tension control.
Class Code: 06/01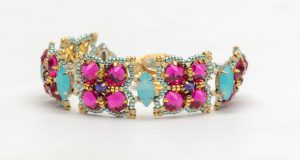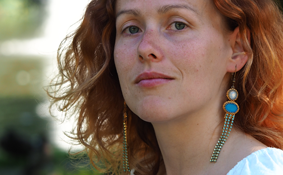 Adriatic Waves Necklace with Carole Cowie
Inspired from a trip to Croatia and the stunning crystal clear, blue-green waters of the Adriatic Sea, this necklace is real talking point.  Waves of Herringbone rope ebb and flow around a focal oval crystal.  Crystal beads highlight the variation of colours in the waters and provide some extra glitter.
Skill level:  Intermediate. A good understanding of Herringbone and Peyote stitch are recommended to create this necklace.
Class code 06/03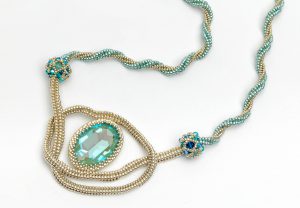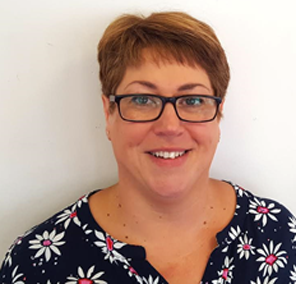 Arwen Necklace with Melanie de Miguel
As they stood on the mound of Cerin Amroth, Aragorn, King of Arnor and Gondor, fastened the jewel around her beautiful neck. For thirty long and arduous years he had loved her and now, having overcome the many dangers and evil threats to Middle-earth, he could commit himself totally to his beloved Arwen. For her part, giving up her Elvish immortality seemed a small price to pay in order to share her life with this most revered of men, and for many years to come, Rivendell would celebrate this marriage, for finally it was reuniting the two, long-separated lines of the half-elven.
Arwen is a pendant composed of three elements. Worked in my fun technique of Quillumning, four beautiful crystals are set into a square and embellished. Architectural external structures and a pretty drop crystal are then added together with a delicate, sinuous rope. Working through these structures will provide plenty of opportunity for discussion about adaptation and modification, so that students will be able to play and develop their own designs.
Skill level:  Experienced
Class code 06/04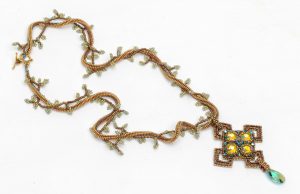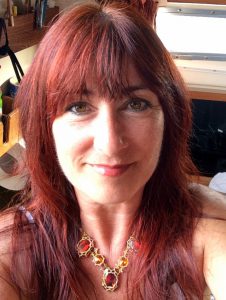 Mini Diamonds with Karen Gibson-Brown
One shape, multiple pattern choices and everyone's favourite, Peyote stitch are the perfect recipe for a fun day of beading with Karen at the Great British Bead show.
Monochromatic colour scheme or a Harlequin effect?  Join as you go or make and join later?  This workshop is designed for you to experiment with colour placement and to discover what options suit you best to create your own Mini Diamonds bracelet.  Knowledge of circular Peyote stitch and the use of small beads would be advantageous.
Skill level: Confident beginners to Intermediate
Class code 06/06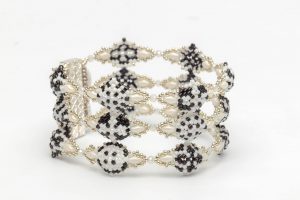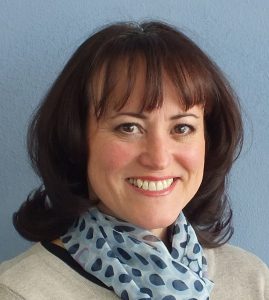 Celestial with Heather Kingsley-Heath
A crescent Moon and heavenly Stars delicately described in seed beads and sparking crystals. Channel your inner serenity when wearing this perfectly balanced crescent moon as it sits among glittering star strands, all suspended from a delicate bail and beaded chain.
Skill level: Intermediate
Class code 06/09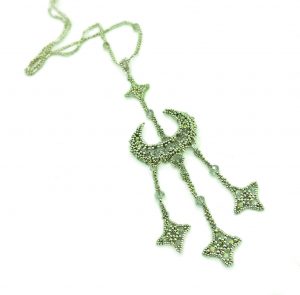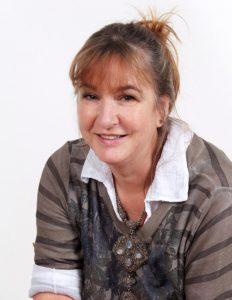 17th Century Oak Leaves with Jane Griffin
Learn this unique 17th century beading technique using a wire frame stitched down to an embroidery frame to create beautiful Oak leaves. Our ancestors were obsessed with beads, just like us, and created many wonderful pieces of art, learn some of the history of this work whilst discovering a completely new beading technique. This is not an easy technique to master so please be prepared to be challenged!
Skill level: Experienced
Class code 06/10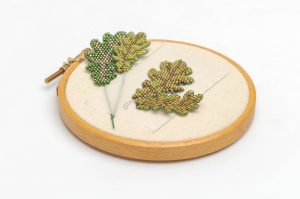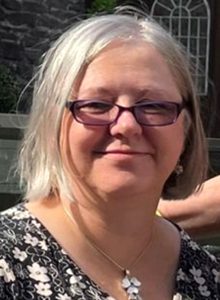 Soutache Mania with Patty McCourt
Learn how to make an eye-catching brooch and bracelet using Soutache braids. These Soutache cords are soft and come in many colours providing the designer with the opportunity of creating graceful swirls and components with many design variations and lots of colour possibilities. Come and join Patty for this workshop and expand your jewellery making skills in this versatile and stylish technique.
Skill level: Intermediate
Class code 06/11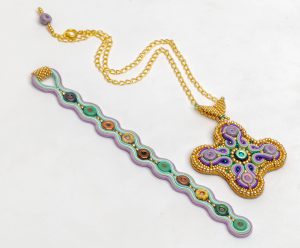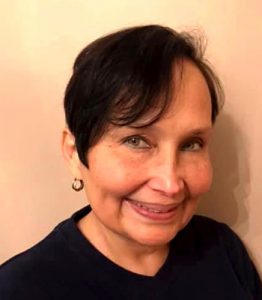 Purple Mosaic with Helen McIntyre
Learn how to make geometric objects with beautiful Cellini undulations created using a regular pattern of increasing and decreasing sizes of beads.
The workshop will include instructions for a small Giza Pyramid and a large Purple Mosaic Bowl. Originally inspired by the Johnsons Solids Project combined with a love of Cellini Peyote, these projects may look complicated a first, but are in fact composed of small Cellini Peyote triangles, squares and pentagons which are relatively easy to make. We will explore tricks for easy assembly, elegant thread paths and further design possibilities.
Skill level: Good Intermediate to Advanced beaders who have mastered Peyote and Herringbone.
Class code 06/12 - Class fully booked