Saturday 14th May 2022 - 3.00 till 8.00pm (UK time)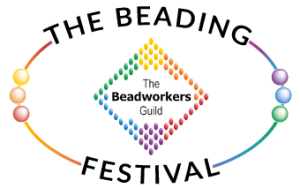 Online Bead-in:  Bead a Tree for the Queen's Jubilee
This members only event is all about bringing Guild members together to enjoy our passion and be inspired.  The Bead-in is a buzz... a party atmosphere where we all bead together!
This members' only event is all about bringing Guild members together to enjoy our passion and to inspire creativity.
'Bead a Tree for the Queen's Jubilee' is our chosen theme for this year, inspired by an initiative led by Prince Charles, to encourage all residents of the UK to plant a tree to help save the environment in honour of Her Majesty Queen Elizabeth II's seventy years on the throne.
We will start our online bead-in by presenting a selection of beadwork made especially for our main event at Daventry, plus a presentation of various images we have collated in the hope that they may inspire you and help get your own creative ideas flowing. Also, throughout the day, we will be dropping in titbits of data about trees and from the seven decades through which Queen Elizabeth II has reigned over, to hopefully inspire further beadwork ideas.
Our aim is to encourage you to soak it all in and think, 'Could I use beads to make something inspired by that?'.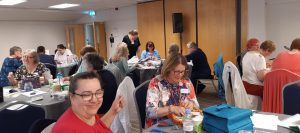 Non-designer? No problem! You will receive a pattern booklet with a selection of motifs and projects kindly donated by our trustees, staff, and volunteers for you to experiment with, plus basic stitch instructions. The hosts will also be available throughout the day to help anyone who needs assistance.
One thing we can guarantee is that you will have great fun, in good company.
If you are a member of the Guild and would like to book a place at this year's event, please click here.
Upon making your booking you will receive a requirements list and your pattern booklet will be emailed to you the day before the event.
Not a member of the Guild but would like to join? Please click here.
For further information regarding this year's event, please contact Sylvia Fairhurst at:  events@beadworkersguild.com